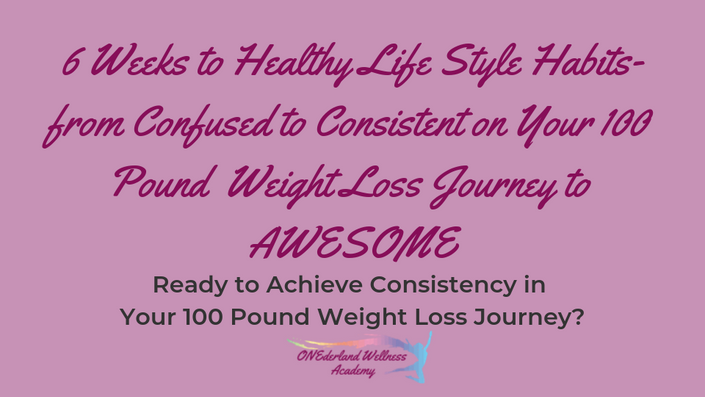 6 Weeks to Healthy Life Style Habits-from Confused to Consistent on Your 100 Pound Weight Loss Journey to AWESOME
Ready to Achieve Consistency in Your 100 Pound Weight Loss Journey?
Let Me In!
Do you have over 100 pounds to lose & want to lose weight without repeatedly going off track?
DO ANY OF THESE SOUND FAMILIAR?
It's Monday morning MOM, and you're ready for a fresh start, and you're 100% all in on your "diet". You are going to do it this time! NOT!
Congratulations MOM! You have been doing great for 2 or 3 weeks! BUT your motivation has just LEFT...
Or finally, you're overwhelmed MOM! And you can't get to steps 1 or 2 because the thought of losing 100 pounds or more is just completely overwhelming and confusing.
Imagine if your life could look like this...
You wake up refreshed and ready to roll

You have a plan and you're confident you can DO THIS!

Everyday you reach a new small goal and you feel empowered instead of destroyed!

Consistency has become your normal...

Your the role model you want to be for your kids...

You Reach ONEderland! And lose 100 lbs!

You have a Healthy Life and Mind!

You KNOW you can do this Consistently!

You Have the Energy to be a Better Mom, Wife and Person!
What do ya get...
5 Modules that Teach you:
How to commit to your 100 pound journey
Get rid of your roadblocks to successfully lose 100 pounds
How to overcome your own objections to lose the 100 pounds you want to lose
How to create habits to keep your motivation rolling on your 100 pound weight loss journey
Habits investigated-Talkin' about what pieces to change to Rock your 100 pounds weight loss journey
How to Add new SMALL habits and how this equals NO more overwhelm on your 100 pound journey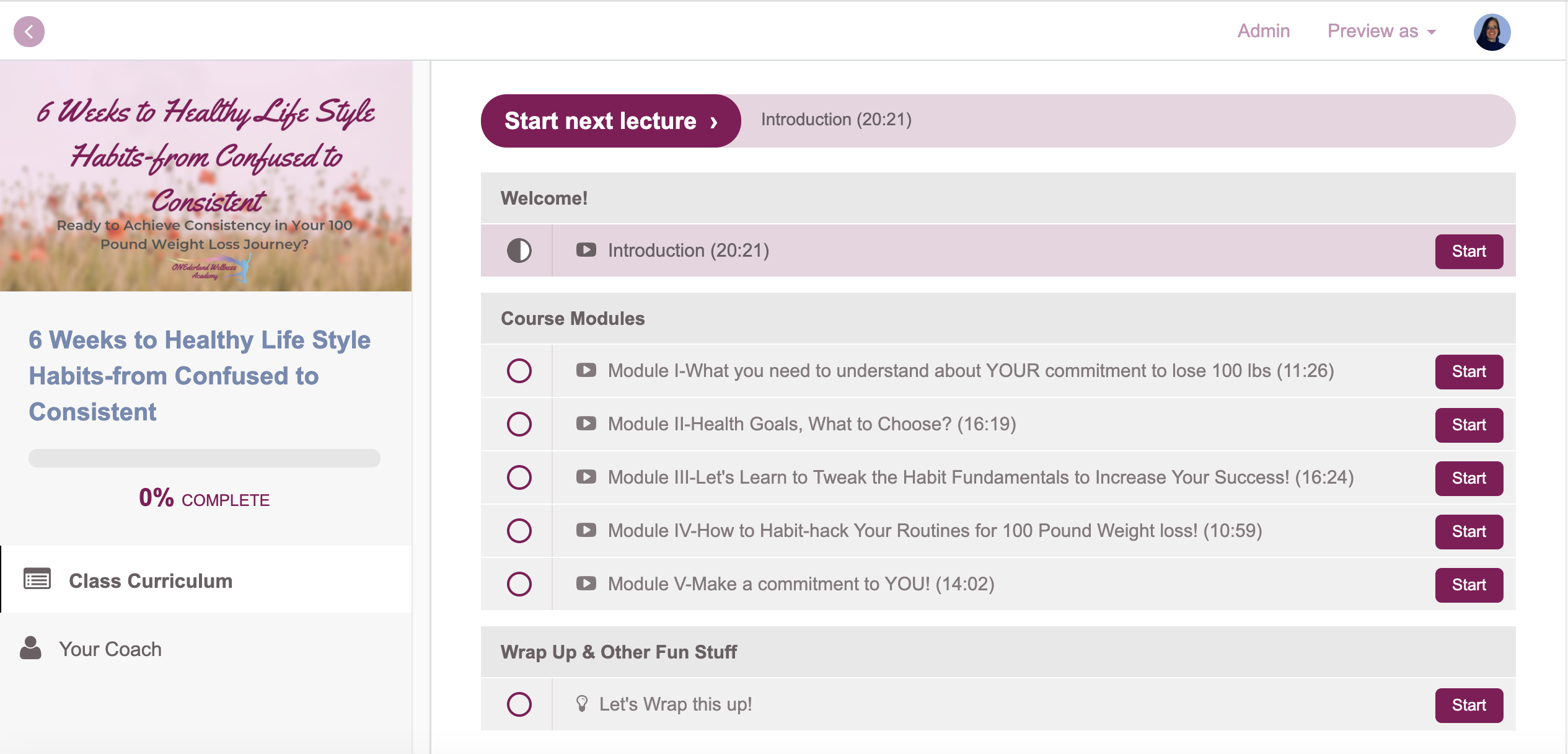 Bonus #1 : ($197 Value)

Private Facebook group with access to me and others that have taken this course.
Bonus #2 : ($225 Value)

½ hour bi-weekly Group Zoom call, to answer questions & provide bonus content

Bonus content upon request in prior weeks call. Based on group need, so you get to help decide the content.

Bonus #3 [ONE on ONE Coaching option only]: ($450 Value)
3 One hour one-on-one coaching calls with me to cover your specific issues. (takes place on off weeks from group coaching) (ONLY 3 SPOTS AVAILABLE)
Total Course Value $997
Course Curriculum
Welcome!
Available in days
days after you enroll
Wrap Up & Other Fun Stuff
Available in days
days after you enroll
What about the Guarantee...
I want you to be happy with the outcome of the course! I can't guarantee you will lose 100 pounds in 6 weeks, but I can guarantee if you do the work and you are unhappy you have 14 days to get a full refund!

"The education I received has already made an impact in my journey. You can't do it by nutrition alone, but now I have more insight into the behavioral aspect and feel like I, for once, have decent coping skills to break the cycle of self sabotage! Thank you Michelle - A highly recommended program."
- Debra, Student

"Michelle is extremely passionate about her purpose. She is kind, patient And truly compassionate and empathetic towards my needs as I go through this journey of self love and healing my body from the inside out. I feel so comfortable and blessed with her guidance and strength as well as her understanding of my issues. She is a true leader and gifted in many ways as a success and weight loss coach."
- Jacqueline, Coaching Client
Your Coach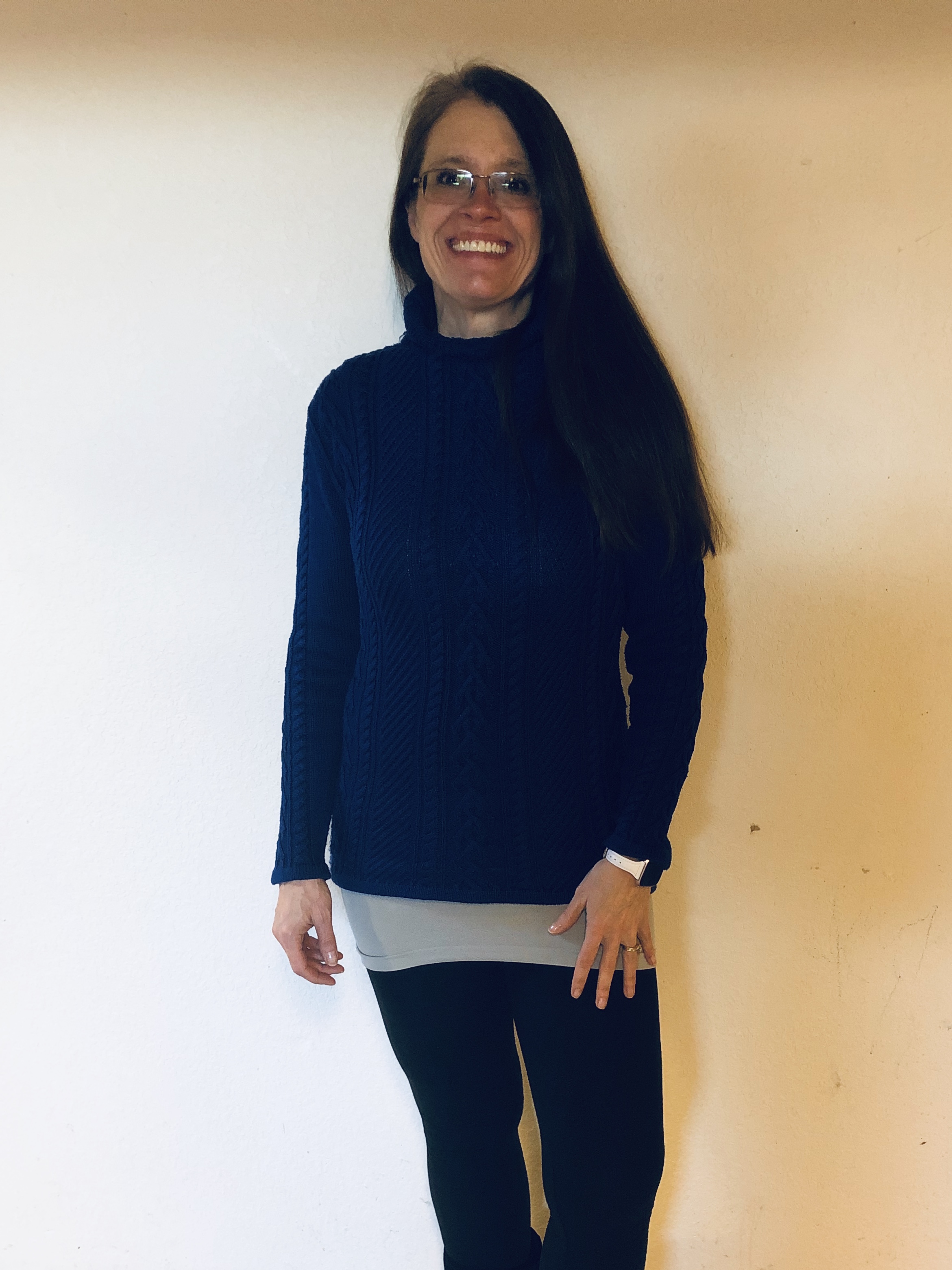 Michelle Thomas is an ACE Certified Health Coach, a certified Precision Nutrition Level 1 Coach and she is a Certified Wellness, Nutrition and Fitness Expert for people who have 100 pounds or more to lose, she coaches them and gives them the tools to change their habits and change their lives forever.
But really what does all that mean?
I have lost 120 pounds and I have maintained it for 5 years. I come from the unique position that I have been where you are right now! I know how it feels, and I was over 40 before I figured out what worked for success and maintenance of a large weight loss.
If the videos and words on the page don't help you, I am offering one on one coaching to help get you through the ruff patches.
Each journey is different, but because I have been there, I am the coach to help you get to your destination!
This program is for you if...
You have 100 lbs to lose

Or you have lost 100 lbs and you are slowly creeping back up

You are a busy women over 40 (or close) that desperately wants to change

You want to lose the weight, but you can't get consistent on the weight loss journey

You are ready to give up the fast and loose diet and change your lifestyle for good
Aren't you tired of starting and stopping?
Are you tired of running out of motivation too quickly?
Learning how to create habits during those spikes of motivation is where your success happens!
What do you get out of this class?

You learn to manage your mindset to get consistency to lose 100 pounds

You get the tools to work through emotional eating, so you can lose that 100 pounds.

Finally, you learn how to develop new healthy patterns for your new healthy lifestyle
This class helps you understand motivation, and those triggers that throw you off the rails!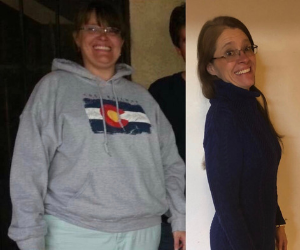 Now is YOUR time! I know this is the course and coaching program for you! Don't let another day go by, you need this now!

Frequently Asked Questions
When does the course start and finish?
I release this course to groups 4 times a year. Once you purchase the course, you may start at anytime, and you are not required to keep up. But during the release there is a lot more activity in the group, and the group coaching calls only take place during the release periods. Please email me with any questions and I can give you a list of start and end times for the coaching calls. :)
How long do I have access to the course?
How does lifetime access sound? After enrolling, you have unlimited access to this course for as long as you like - across any and all devices you own.
What if I am unhappy with the course?
I would never want you to be unhappy! If you are unsatisfied with your purchase, contact us in the first 14 days and you show me you have done the work, I will give you a full refund.
Michelle, I really want to change, but I don't think I can... Can your course help me?
This is a question I get a LOT! And my response always is, if you are teachable and you are willing to learn then YES! One reason so many people have issues with change is that they don't know there really is a process. It's not just a matter of saying your going to change. There are little tricks to making the change successful! I teach you those tricks.
Michelle, I know what to do. I just don't do it, so how is your course going to help me?
The big answer to this is accountability!!! If you know what to do that is great! But you are looking at this page for a reason, and I am willing to bet that reason is that you want to change, but you still need help. It's a lot easier to change if you are doing it with a group, and knowing there are meetings and deadlines. This will push you into overdrive with success. ;)